The silica gel which is familiar among us is categorized as physical adsorption that catches humidity by concaves on the surface.
However, EX-DRY uses deliquescence power of anhydrous calcium chloride to absorb humidity; hence high absorbing function ever.
01
Humidity absorbing function you've never seen was established by chemical power.
Strong and highly efficient absorbent.
EX-DRY's humidity absorbing function is about five to seven times stronger than that of common silica gel.
Moreover, initial effect is superior and it lasts for a long time.
Experimental video that compares
the dehumidifying and hygroscopicity of "EX-DRY" with silica gel
01
Humidity absorbing function you've never seen was established by chemical power.
Break through limit of physical adsorption!
High-purity anhydrous calcium chloride which has deliquescence power absorbs humidity,
then high functioning dissolvable polymer made from natural material changes it into gel or rubber forms.
Because it uses unique technology, there is no need to worry about leak and it's easy to check replacement time.
In addition, you can use it safely because it never causes chemical reactions like composition change, by-products,
or heat transfer while absorbing humidity.

01
Humidity absorbing function you've never seen was established by chemical power.
Realized most suitable functions with special film
that no one can copy!
A special film which we've developed as a result of accumulation of much research is used for EX-DRY's packing material.
It passes water vapor like humidity but it completely shuts out water drops like rain;
this packing material with well-balanced porous structure plays an important role.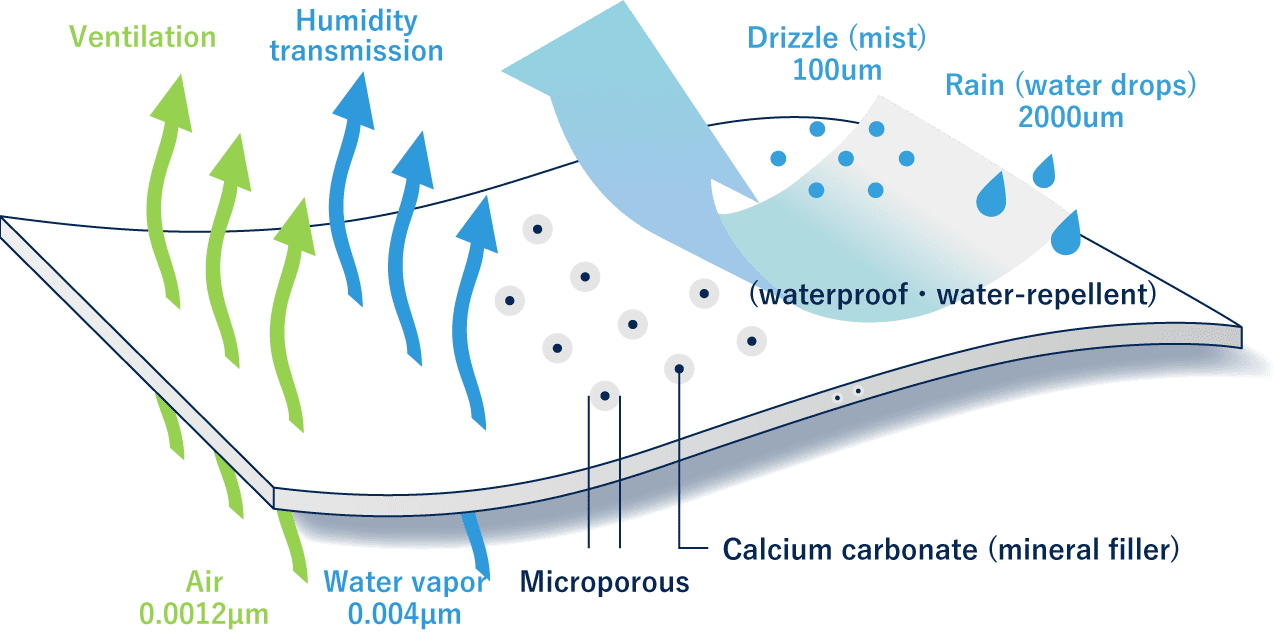 In an effort to reach below 60% of humidity rate
that is suitable for transportation
Temperature and humidity at which products experience change according to countries, seasons (dry/wet) and lead times.
In some countries, humidity rate could be 90 or 95%, which could lead to various risks such as rust on metal products or mold on leather goods.
Using EX-DRY to accommodate such environmental changes realizes the best humidity and protects products from harmful humidity.
Prevent product damages caused
under high temperature and humidity circumstances
Usage examples
Automobile industry

(cast-iron parts, iron parts)

Electronic industry

(electronic parts, batteries, control panels)

Glass industry

(building materials, car windshields)

Textile factories

(workwear, jackets, miscellaneous goods)

Food

(rice, brown sugar, beverage (bottles) )

Packing work

(dehumidification in containers, wooden boxes or cartons)
For realization of
sustainable society
We've passed multiple law restrictions such as UN GHS, Europe's REACH, and China's GB; so you can use EX-DRY for export with no worries.
EX-DRY is eco-friendly
because of safe materials used.
PRODUCTS
SU double-face non-woven fabric type

Both sides of packing material are made of non-woven fabric.
This is the most basic one.

SU-F single-sided film type

One of the sides of packing material is made from non-woven fabric and the other is made from film.
This one is used for more delicate products like electronic parts. It absorbs humidity more slowly compared to double-face non-woven fabric type.

SU-H hanger type

You can hang it in containers.
We will be happy to suggest an item, size, quantity and effective usage to accommodate your needs.
Please let us know your transportation or storage conditions.
FAQ
How do I know when to replace or dispose an EX-DRY?

It depends on use environment, so we can't advise the exact time period.
However, as EX-DRY keeps absorbing humidity, it becomes like gel or gummies from granules.
When it becomes like gel or gummies, please replace it with a new one or dispose of it.

Is there an expiration date?

No, there isn't.
Only when the carton is unopened, we offer a two-year warranty.

Can I reuse it?

No, you can't reuse an EX-DRY that's already become like gel after absorbing humidity.

Can you issue a certificate of non-use?

Yes. We can issue certificates to prove EX-DRY doesn't contain SVHC substances or ones prohibited by RoHS2.0. We can also issue parameter sheets.